Ravenloft Comes To Neverwinter
Heroes of Neverwinter, your newest adversary awaits in Castle Ravenloft.
Neverwinter just launched its Ravenloft module on PC – the 14th module since the game dropped in 2013.
Based on the popular Dungeons and Dragons Campaign Setting, Neverwinter's Ravenloft module gives heroes a chance to battle the dreaded vampire Count Strahd von Zarovich.
While it has been fun for players to face powerful villains in the Forgotten Realms, Ravenloft gives players a chance to battle a new adversary whose origins lie outside of Faerun – an adversary who is considered one of DND's oldest and most dangerous enemies.
Below is his biography from the Ravenloft Wikipedia Page
Strahd Von Zarovich was allegedly the first Vampire and the dark lord of Barovia.
After fighting a series of wars, he retired to the valley of Barovia and had a fortress named Castle Ravenloft built, after which his brother Sergei came to live with him. Strahd's beloved Tatyana was in love with Sergei, so Strahd made a dark bargain with one of the powers in the Amber Temple. Strahd killed Sergei and Tatyana threw herself off Ravenloft's overlook. Strahd was then cursed by his parents in the form that he would always be trapped in Barovia and not even death would relieve him of his curse. His guards turned on him and shot him with their arrows but he did not die, he became a vampire, the first vampire.
But the vampire lord isn't the only dangerous foe for Neverwinter's champions. Heroes will come up against all kinds of undead, werewolves and ghouls. This is why the game has put so much into influencer marketing strategies to get the word out – there is a lot to the game.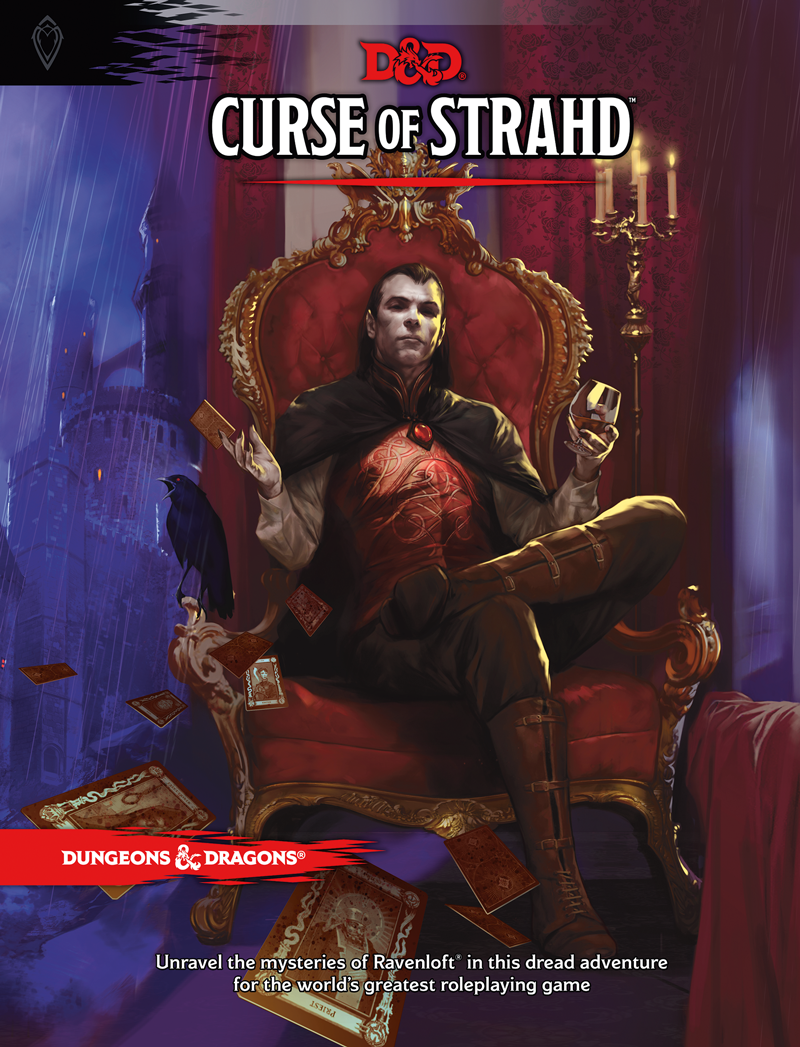 But heroes won't be battling Strahd's forces by themselves. There will be factions who will aid players, one being the Vistani.
The Vistani are an elusive group of wanderers that roam the land of Barovia. Your first encounter with them will not only start you on the right path into the land of Barovia, but will also endear yourself to them. In doing so, they will set you up with an appropriate set of gear to help you as you brave the mists; a very gracious set of 8 pieces of gemmed 460 gear, as well as a Vistani weapon set and 3 trinket artifacts.
Heroes also have a chance to get some high-level gear from the Yen Store and from dispatching foes.
Some of the new items added to the Zen Market include
Vistani Wanderer Companion –

A wandering Vistana looking for some entertainment will fight alongside you in Barovia and beyond. This companion's active bonus increases the drop of Barovian Coins, Omens, and Gold by 10%, and includes 3 item slots.

Tarokka Card and Key Bundle –

This key bundle includes 20 Enchanted Keys and a 5-card pack of random Tarokka cards.

Knox's Veteran Recruitment Order –

This new prebuilt character update gives players more campaign unlocks, Ravenloft intro gear, Ghost companion, 3 rank-7 bonding runestones, and more!
From June 26 to July 26, heroes can visit the Rewards Claims Agent for Ravenloft Treasure Chests.
While PC players are already playing in Ravenloft, console players won't have to wait too long to begin their hunt for Strahd as the module is expected to come out for Playstation 4 and Xbox One soon.
It will be interesting to see if the creators of the game will look to Twitch influencers, for example, or even TikTok influencers to get involved with pushing the new game, it's trailer, and any future updates and news that may arise.
Sifu Arriving in February 2022
Following a delay, Sloclap has finally announced a new release date for their hand-to-hand brawler action game'Sifu'.
The game is set to make it's way to Playstation 4, PC, and Playstation 5 on February 8th.
The fighting game has a rather unique wrinkle, as every time you die in the game, you respawn a little bit older. You can check out a vide of the game below.
Grand Theft Auto: The Trilogy – The Definitive Edition Officially Announced
Rockstar Games officially announced last week that Grand Theft Auto: The Trilogy – The Definitive Edition will make it's way to Playstation 5, Xbox Series X/S, Playstation 4, Nintendo Switch, Xbox One, PC, iOS, and Android in the first half of 2022.
Grand Theft Auto: The Trilogy – The Definitive Edition includes Grand Theft Auto III, Grand Theft Auto: Vice City, and Grand Theft Auto: San Andreas with "across-the-board upgrades, including graphical improvements and modern gameplay enhancements, while still maintaining the classic look and feel of the originals."
The existing versions of Grand Theft Auto III, Grand Theft Auto: Vice City, and Grand Theft Auto: San Andreas will be removed from digital storefronts starting this week.
Bandai Namco Drops Part 2 of Super Robot Wars 30 Video Series
Bandai Namco has released the second part of it's "Super Robot Wars 30 Primer" gameplay video series entitled "Primer Part 2: Combat".
In the new video Lian Anbird voice actor Karin Takahashi plays the game, while Super Robot Wars series producer Takanobu Terada and Super Robot Wars 30 producer Shouhei Mogami provide the commentary.
Super Robot Wars 30 is set to arrive on the Playstation 4 and the Nintendo Switch in Japan and Asia with English subtitled, and PC via Steam globally on October 28th.